GlitterBug Design Studio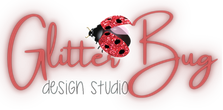 Glitter Bug Design Studio ….. we help you to "Be your own kind of sparkle!!".
Glitter Bug Design Studio (GBDS) got started in the fall of 2020. After working with acrylics and UV gel products in the salon industry for over 30 years it was time to take it to the next level. Taking the experience with sculpting using nail products, I decided to begin resin crafting using silicone molds and epoxy resin. It allows me to continue in the creative arts without being cooped up in a salon all day. I fell in love with the craft.
Where'd the name come from??? Well…..I owned a nail salon where I worked with glitter every day which meant that everywhere I went I left behind some glitter….. and I also had a convertible VW Beetle…..my custom tag was GlttrBug. I loved it, it stuck, so here we are with Glitter Bug Design Studio. It's cute and it's catchy.
Nearly everything created by GBDS is custom-made. But there are also many ready-to-ship items available. For this reason, shipping times will vary depending upon the items ordered (be sure to check each listing for turnaround time on custom orders). Every order is carefully and lovingly created and packaged for customer satisfaction. We are starting out with gift items crafted out of resin with embellishments that include glitter, dried botanicals, shells, sand, and anything else you may desire to have included in your art piece. All drinkware and pens that have coatings on them are made using a non-toxic, non-hazardous, and epoxy-free top coat. In most instances, drinkware and pens are completely epoxy-free (even lower layers).
Glitter Hugs & Inky Wishes,
Melodie Hand - Your glittery maker